Thai Kitchen Organic Coconut Milk
The Thai Kitchen Organic Coconut Milk is a kitchen essential for adding some rich Asian flavors to your dishes. Looking for milk-free ice cream recipes? For those with lactose intolerance, this is a good dairy free option that adds the rich "milkiness" to an ice cream recipe. The versatility of this product doesn't stop here. Add half a can of this coconut milk from Thailand to enrich a stir fry or add flavor to steamed rice. You can also drink the clear liquid (the coconut fat floats at the top) as almost like a rich coconut water beverage. 
Thai Kitchen Organic Coconut Milk Product Details
Costco item #9440.

Organic coconut milk.

Dairy free.
Gluten free.
Vegan.
Non-GMO verified.
A good non-dairy alternative for cooking or baking.
USDA organic.
Product of Thailand.
Ingredients List
Organic coconut. Water. Organic guar gum.
Allergen information: This product contains coconut.
Nutrition Facts
The Thai Kitchen Organic Coconut Milk serving size is about a third of a cup or 80 mL. There are 30 servings per container. Each serving contains 12 grams of fat (which is 15% of an average person's daily value). There is also a very small percentage of iron and potassium.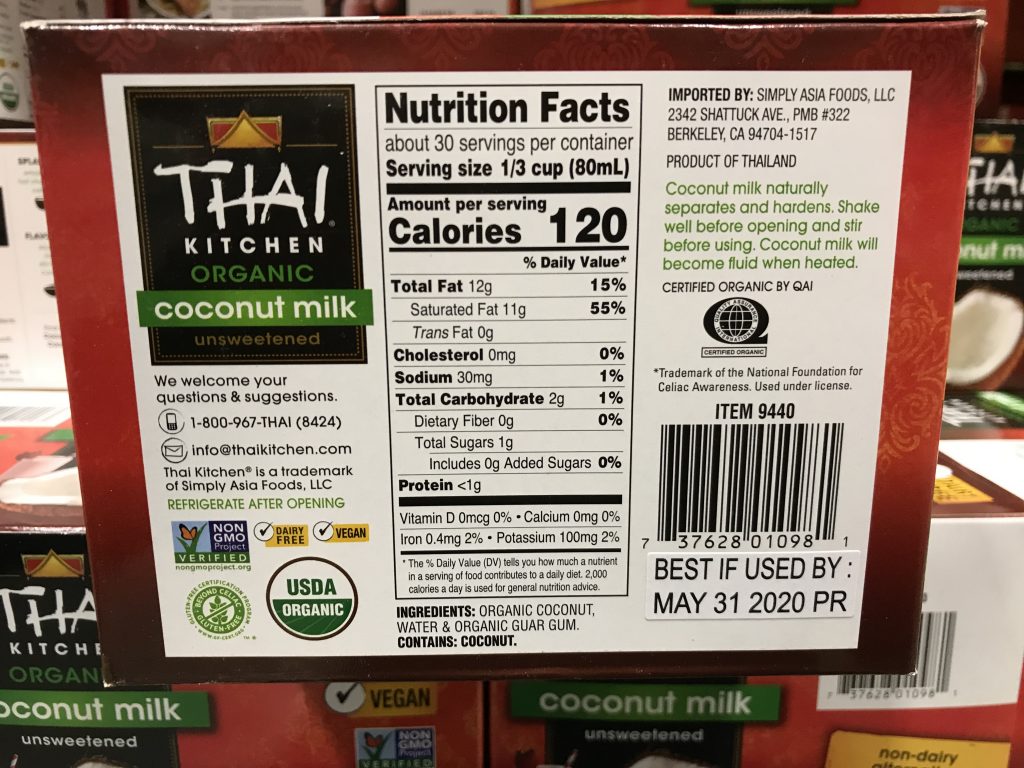 Thai Kitchen Organic Coconut Milk Recipes
The manufacturer included some common recipes to use this product with, including red curry shrimp, strawberry milk, and other quick mixes. Personally, I have used this Thai coconut milk to make vegan ice cream. The coconut milk adds a richness and creaminess that imitates what milk can provide.
You can also add this to a quick smoothie mix or stir into your morning oatmeal. Frankly, there are plenty of possibilities. Also, given coconut's low flavor profile, it's hard to make a mistake with what you mix this product in.

Where to Purchase Thai Kitchen Organic Coconut Milk
Currently, most Costco warehouses have this product in stock. With that said, Amazon has this item in stock at the best price with shipping included.