Sunny Fruit Organic Dried Smyrna Figs
It is challenging to find fresh figs and processing them is time-consuming. Fortunately, you can enjoy delicious figs anytime thanks to products like Sunny Fruit Organic Dried Smyrna Figs. Straight from Turkey, these USDA organic figs are juicy, sweet, pleasant, and high in fiber.
The Sunny Fruit company has been making tender and juicy figs since 1993. This organization is proud of making natural fruits without any artificial colors or flavors. Moreover, figs are naturally gluten free and nut free for those with select food intolerance.
Sunny Fruit Organic Dried Smyrna Figs Product Details
Costco item #1136745.
By Sunny Fruit company.
USDA organic.
Pasteurized.
No artificial ingredients.
Gluten free.
No sugar added.
Nut free.
Good source of fiber.
Tender and juicy.
Product of Turkey.
Ingredients List
Organic dried figs and water.
Nutrition Facts for Smyrna Figs
Each serving size is about 2 Smyrna figs. The Sunny Fruit package has about 28 servings per container.
Every serving has 100 calories none of which are from fat. The figs also include 4 grams of fiber and 1 gram of protein in every serving.
The sugar content may be high at first sight (19 grams). However, none of these are added sugars. It's the natural fruit sugar from the figs themselves.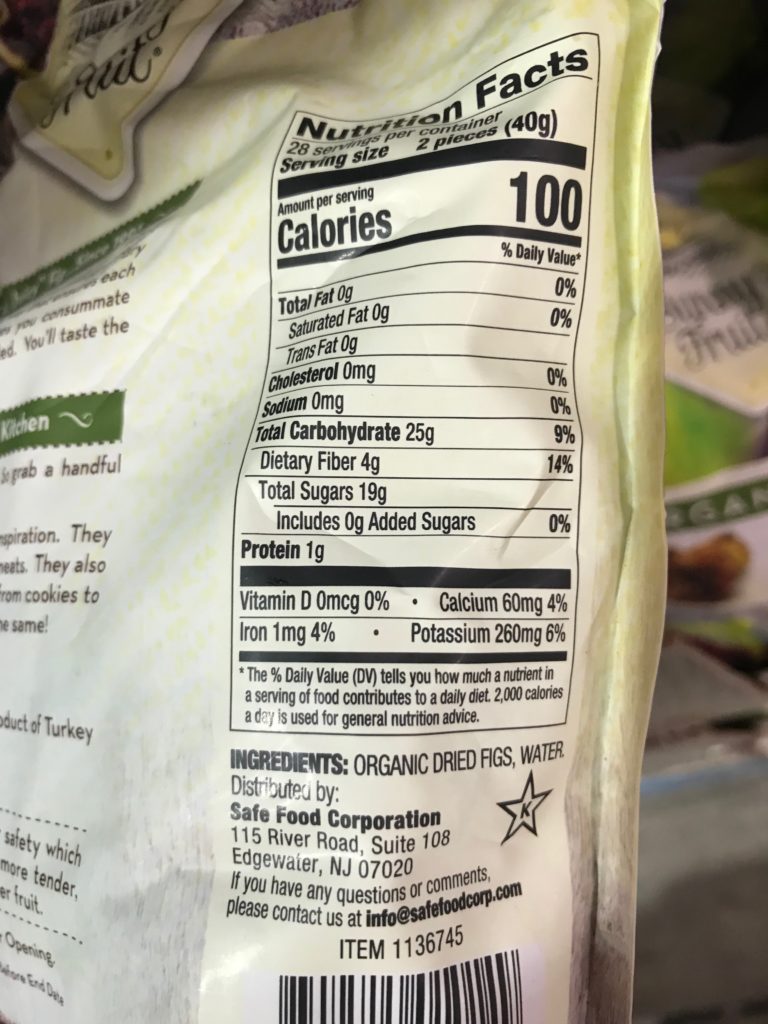 About Sunny Fruit Organic Dried Smyrna Figs
Sunny Fruit company packages these organic figs at its source after pasteurization. Therefore, nothing artificial is needed to achieve that ideal sweetness and texture. In addition, the pasteurization process actually help darken the figs and enhance its soft and juicy textures.
Storage advice: You should refrigerate after opening to maintain freshness.
Where to Buy?
Currently, most Costco warehouses have this product in stock due to the holiday season. Based on my research, Amazon has this item in stock at the best price with shipping included.