Sabatier Expandable Dish Rack
The Sabatier Expandable Dish Rack is a classy stainless steel compact dish rack. This dish rack has very solid construction. It comes ready to use once you take it out of the box. No construction or assembly required.
I found the Sabatier expandable dish rack to be very flexible to use. It can be compact to save precious countertop space. It can also be expanded to accommodate larger and additional items you wish to dry. The dish rack also features corrosion resistant technology. No more corrosion after a few months of use. The stainless steel construction also makes the item a very elegant addition to your countertop. I have already received a few compliments from friends.
There is also a detachable stemware attachment. This will help nicely dry your wine and champagne glasses. The dish rack is supported by soft legs on the bottom. This prevents damage and scratches on your countertop. The soft legs also stabilize the dish rack when you place wet items on it. The soft legs act as a firm "grip" on your countertop and stops it from moving around.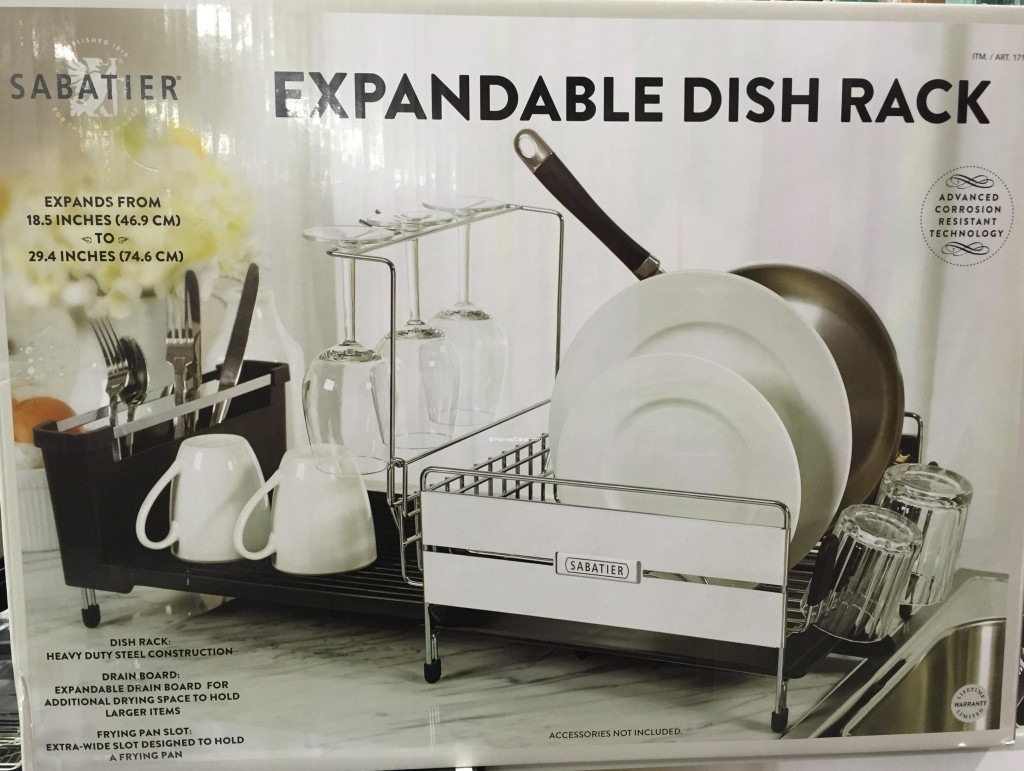 Sabatier Expandable Dish Rack Product Review Details
Costco item #171893.
Advanced corrosion resistant technology.
Heavy duty steel dish rack construction.
Expandable drain board to hold and dry more items.
Frying pan slot.
Designed to save your countertop space.
3 compartment caddy.
Stemware attachment for holding glass.
Soft feet to protect your countertop.
Soft cup holders to keep items in place.
Spout can be configured 2 different ways to direct water into sink.
18.5 inches (46.9 cm) when compact.
29.4 inches (74.6 cm) when expanded.
Made in China.
About Sabatier Products
Below is the unboxed view of the dish rack. You can see that it is quite compact.
Thanks to Sabatier expandable dish rack's space saving design, many dishes, pots and pans can be stacked up efficiently.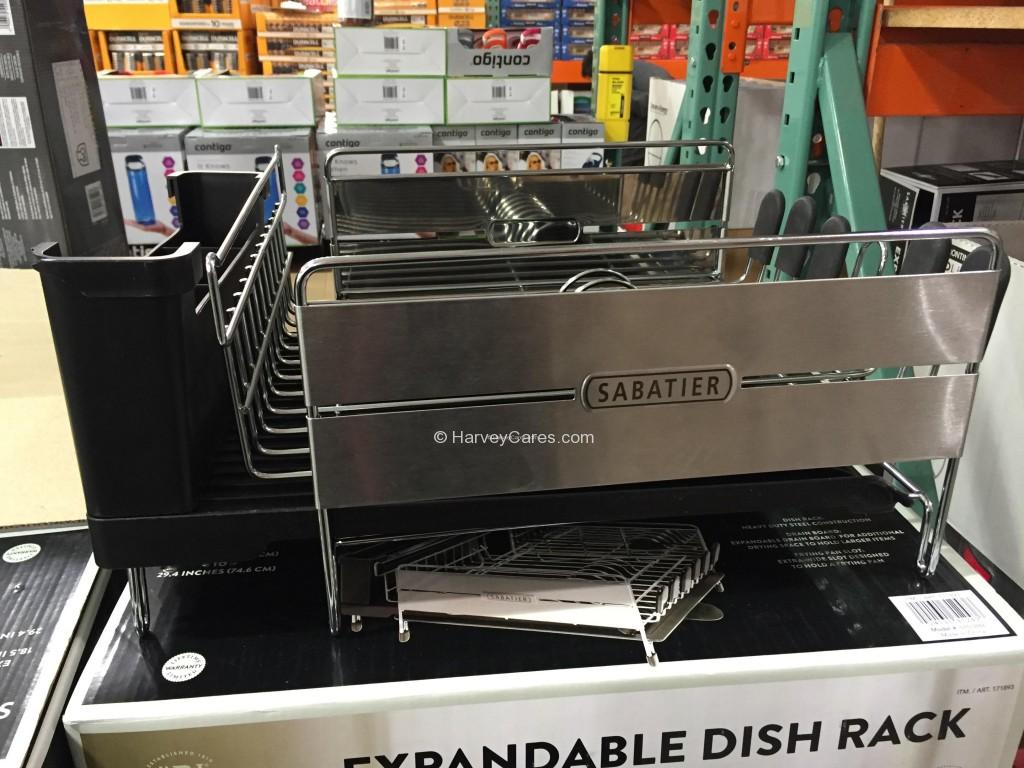 Here is the Sabatier Expandable Dish Rack in its expanded mode.
There is another draining board on the bottom of the stainless rack compartment not in this picture.
I have found the draining system to be very well designed. I have not experienced any leaks or spills since I got the dish rack.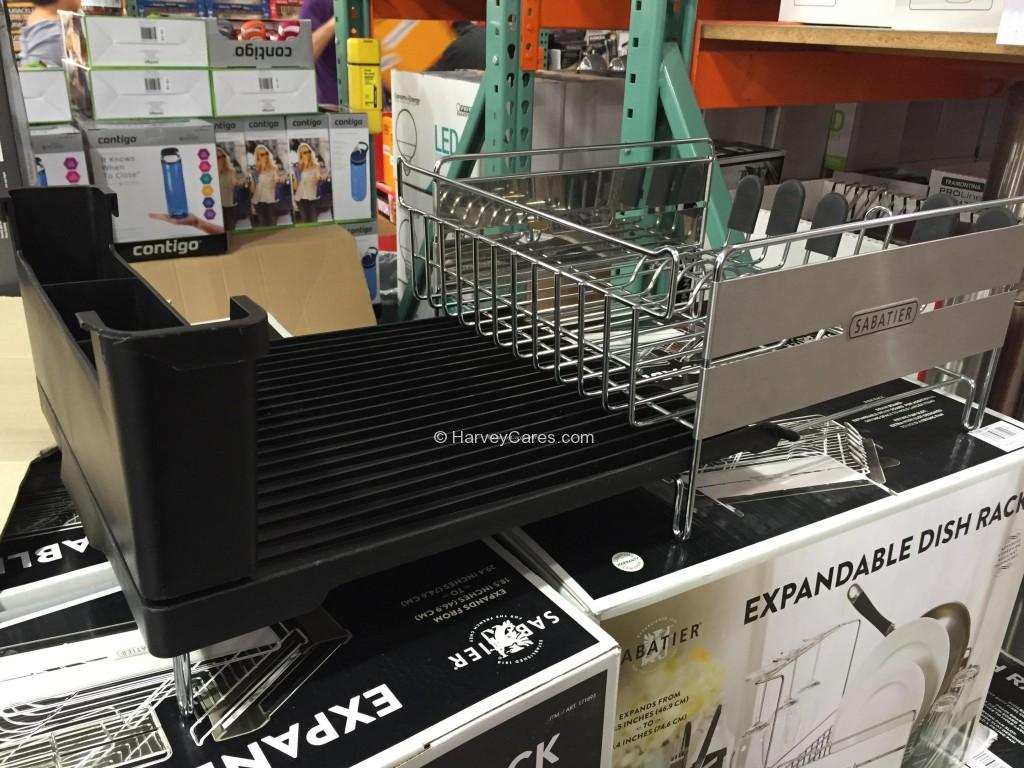 A bi-directional spout directs water into the sink the way you like. Also, this dish-rack is designed to save precious countertop space.
Here is the rack's packaging back view panel: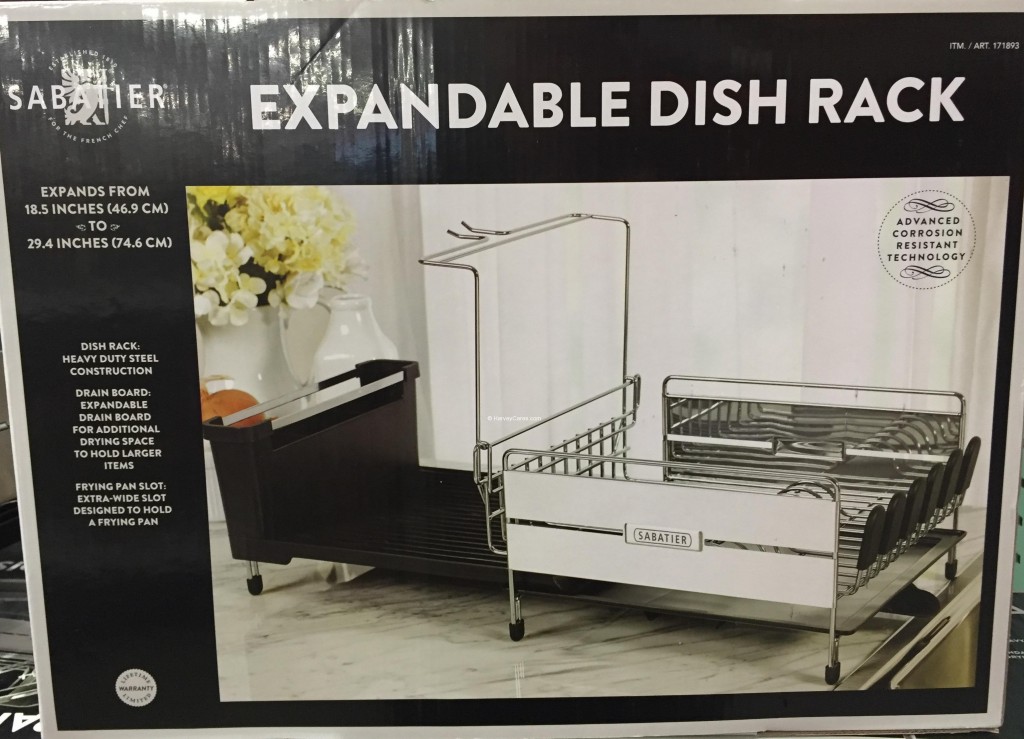 Where to Buy Sabatier Dish Rack?
This item hasn't been at Costco warehouses for a while now. Alternatively, Amazon has this product in stock with free shipping.