PUR MaxION Faucet Mount Water Filter
The PUR MaxION Faucet Mount Water Filter (Ultimate) is an essential drinking water filter for your home or apartment. This is the best water filter I have ever used thanks to its easy one-click installation and truly great tasting water. Moreover, the filters perform very well (see the performance data sheet below). In addition, this product from PUR is also very effective at taking away chlorine taste and smell from tap water.  You can test it out yourself and I think you will be quite impressed at the difference.
As a faucet mount, the water filter is super convenient to use. With a flip of a switch, your regular tap water becomes filtered drinking water. And when you are done, flip back the switch, and your regular tap water comes back. There is no reduction in the tap water pressure or volume. Other faucet mount water filters I have used reduces the tap water pressure and volume when the faucet mount is installed.
PUR MaxION Faucet Mount Water Filter Product Details
Costco Item #940638.
Model# FM-9000B.
2 new filters included.
Faucet Mount.
Filter change light.
Filters water over natural minerals for a great taste.
Space saving design.
Stainless steel style.
One click easy installation.
Triple action water filtration system.
Removes 99% of lead and microbial cysts.
Removes 96% of mercury.
Removes many other chemicals and contaminants (see performance data sheet below).
Reduces chlorine (taste and odor).
About PUR Products
The PUR MaxION faucet mount water filter features MineralClear technology, which filters water over natural minerals for a crisp, refreshing taste, every time you switch to filtered water. The filter itself also has a carbon layer that is certified to reduce chlorine (taste and odor), and many contaminants, including lead and mercury.
In addition, the PUR filter reduces 96% of trace levels of pharmaceuticals. This filter leaves beneficial fluoride alone. The triple action water filtration process ensures that everything you don't want is left behind. Leaving you with good tasting and healthy water. The filter has a capacity of 100 gallons or 1,600 8-oz cups before needing a replacement.
All PUR products can be fully recycled through TerraCycle.
By using the PUR MaxION faucet mount water filter, you can potentially save up to $1,000 a year.
Replace up to 3,000 plastic bottles a year, and enjoy refreshing, filtered water for 10% of the cost of bottled water.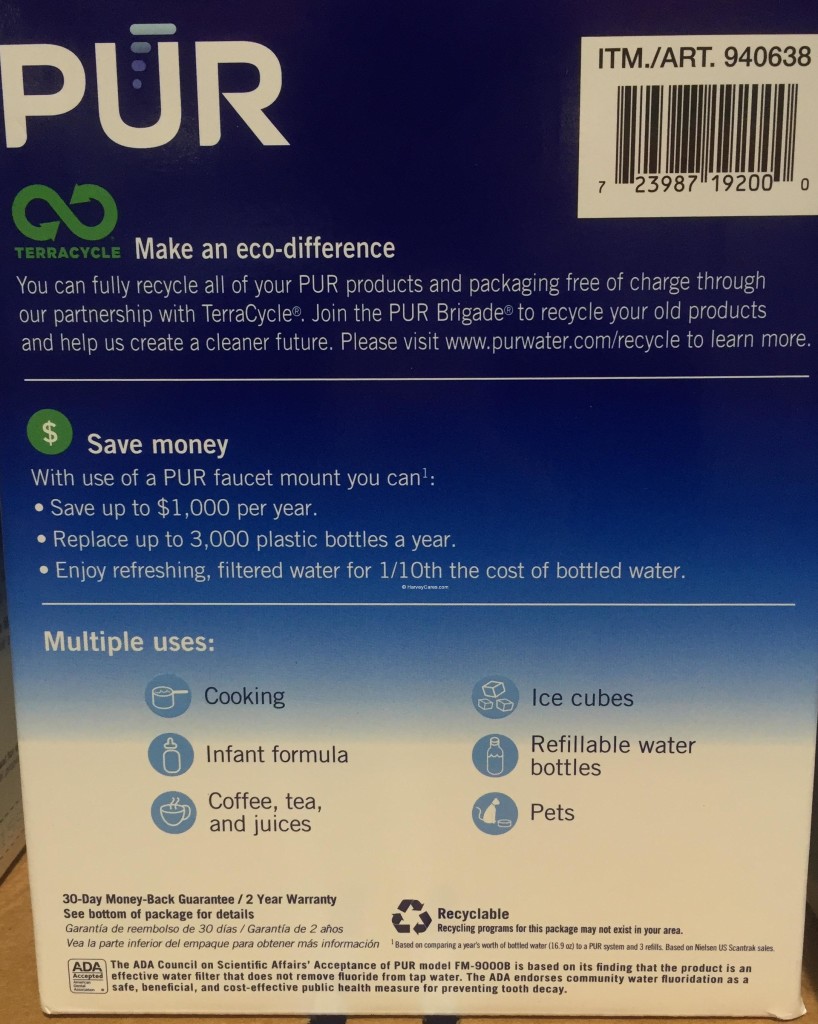 The 1-click installation process is really easy and frustration free. I had my whole PUR MaxION faucet mount water filter system set up (see my review process below) within 3 minutes.
The filter change light shows you when you need to replace the water filter. No batteries required.
Below is the product back panel product description.
Installation Process with Step by Step
Below, you will see my personal step by step installation process.
I found installing this water filter to be a breeze. Integral to this installation is the adapter that connects your faucet to the PUR filter. Once you get that step right and screwed in, the rest of it is really a one click installation.
Everything that is included: PUR MaxION faucet mount water filter main base, 2 replacement filters, and various adapters to fit your water faucet.
You can see in the picture below that the PUR water filter faucet mount comes with a few different adapters. Use the one that fits your current kitchen faucet opening the best.
I used adapter A, a metal based screw-on adapter. Adapter A should fit most standard kitchen faucets. I would recommend using that first before trying the other ones.
Step 1
Attach your water faucet before the metal adapter A is screwed on. Note that you may use adapter B, C, or D. This depends on what type of kitchen water faucet you have.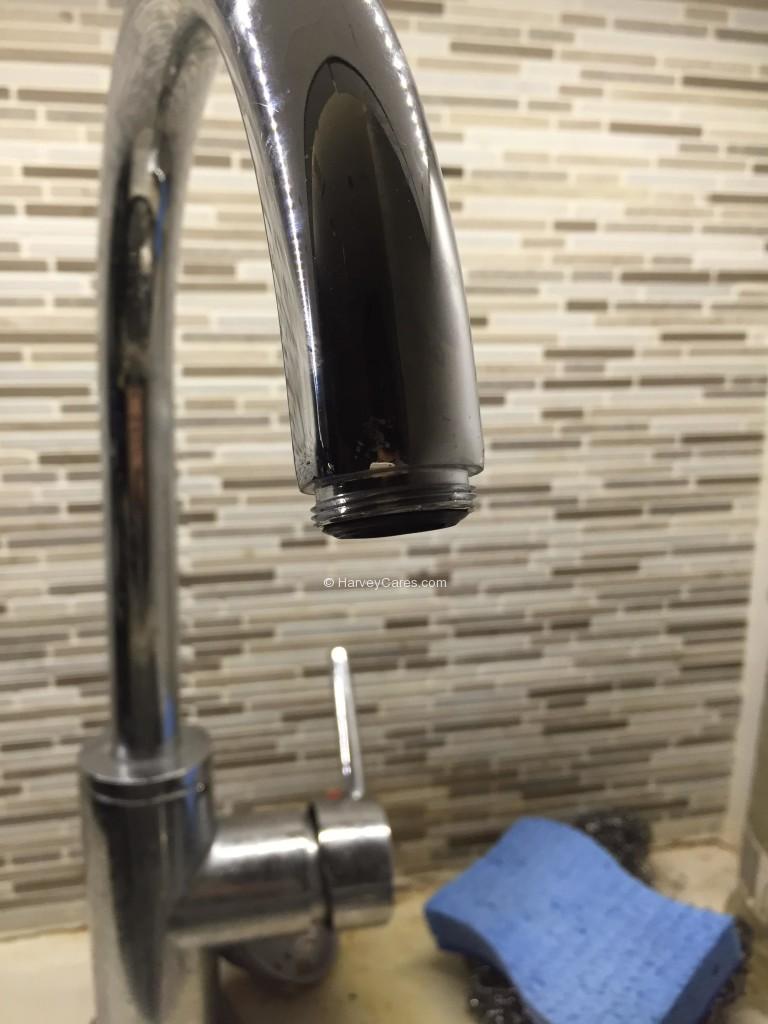 Step 2
With the PUR water filter metal adapter A screwed on: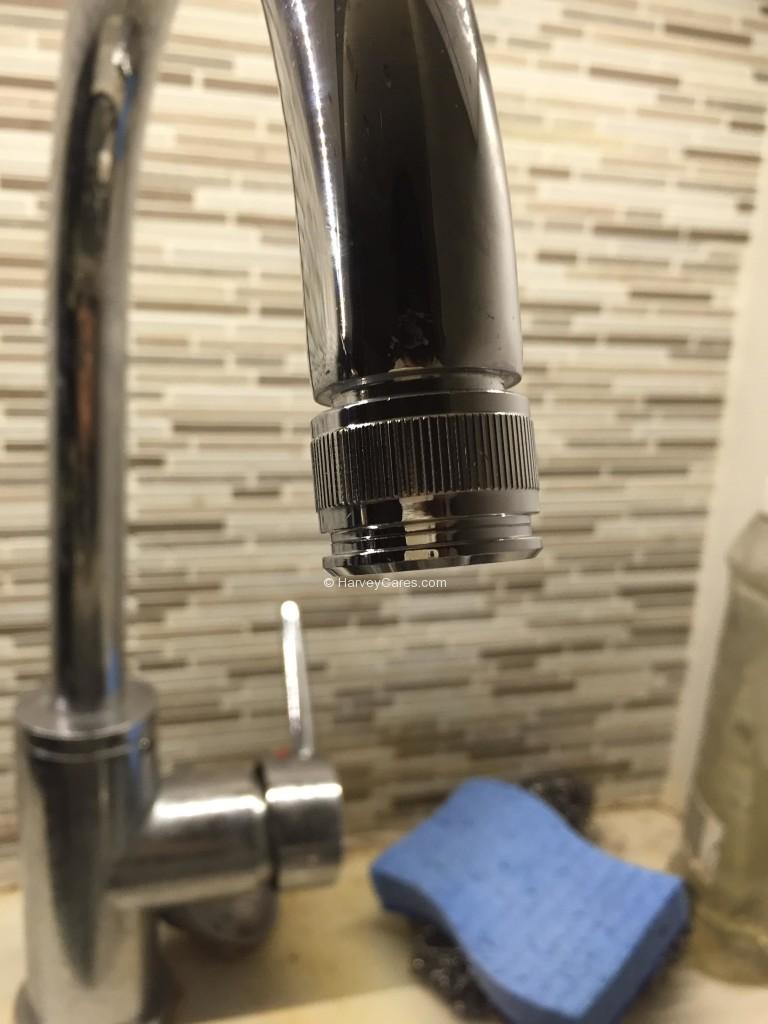 Step 3
Here you can engage the one-click installation of the filter head. It basically "snaps" in and clicks as soon as you push the base up to the adapter. Securely installed with no hassles!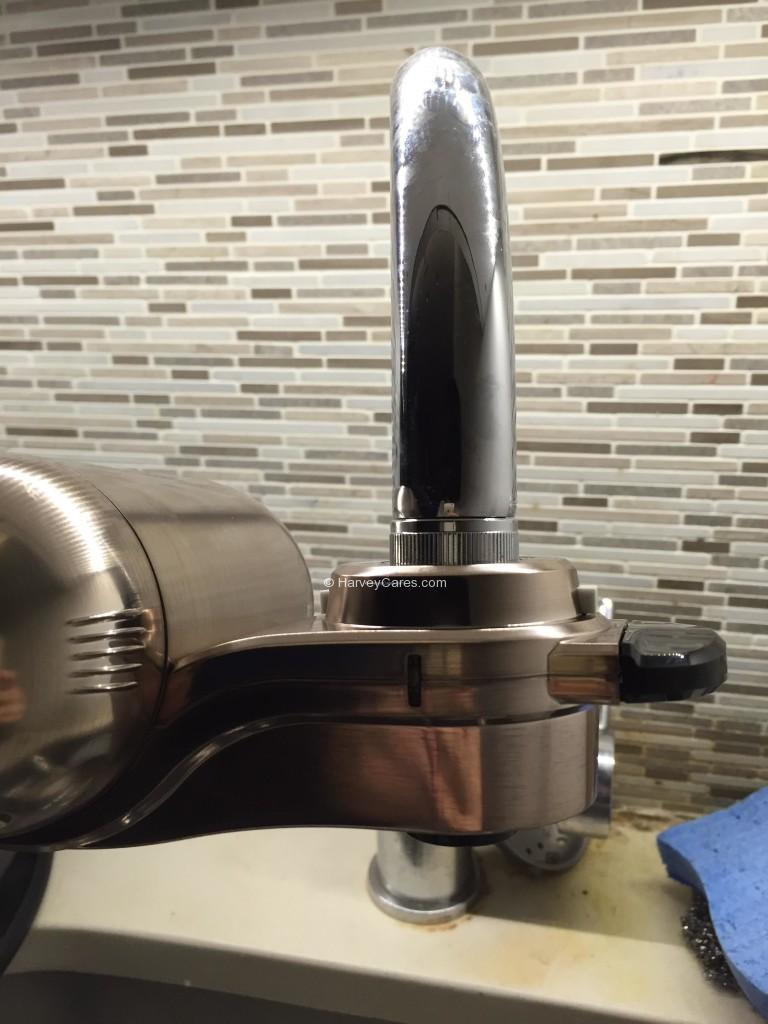 Step 4
I placed in one of the new PUR MaxION faucet mount water filter cartridges as seen below:
Step 5
Voilà! Purified drinkable water installed within 3 minutes and drinkable as soon as you flip the switch! Also, this elevates the look of your sink area with the stainless steel.
PUR Water Filter Performance Data
PUR's filters are well-known to be above average in terms of filter power. Below you can see a data sheet on what kinds of chemicals, substances, or solids this filter can process. The data is from NSF/ANSI 42, 53, and 401.
Where to Buy PUR Filters?
Your local Costco warehouse should have this in stock near the supplies aisle. Alternatively, Amazon has this available at a great price with free shipping.