Kirkland Signature Smart Closure Clear Trash Bags
Kirkland Smart Closure Clear Trash Bags are ideal for yard work or recycling collection. Since the bags are clear and transparent, you can see the contents easily. These clear trash bags are not only ideal for collecting leaves and other trash. There are also other good uses. Place donation items in these clear bags so that the contents can be easily seen.
Moreover, the smart closure includes flaps that you can easily tie the bag with. The smart closure flaps are something to get used to. If you haven't used plastic flaps before, you may want to practice tying it up a few times. The smart closure system is convenient for securing and carrying.
Kirkland Smart Closure Clear Trash Bags Product Review Details
Costco item #214988.
Kirkland Signature – your satisfaction guaranteed.
33 gallon capacity.
200 count.
Convenient 1 bag at a time dispensing.
Clear, see-through bags.
Smart Closure aka Smart Tie Closure.

Flaps can be used to tie into knots for easy carry/management.

Thickness:  0.9 mil.
Dimensions:  32.6″ x 37″
Made in USA.
What's So Special About Smart Closure Trash Bags?
The clear trash bags feature the "Smart Closure" system for your convenience. As mentioned above, there are many uses to these clear trash bags. Kirkland makes many very solid and reliable products. This is definitely one of them.
These clear trash bags are not only limited to containing trash. In fact, I have used them more often to store clothes and protect items. Since these bags are clear and kind of see-through, it is easy to identify what it stores and contains. The Kirkland trash bags also are a lot easier on the eyes at home compared to the completely black or white trash bags. I have also used these clear trash bags in the past to create mini green houses for my plants. You can easily poke a few holes and voila, you have a nice ecosystem.
Carry the filled bag with ease by gripping the knots. There are two flaps on opposite sides of each bag. You can easily tie the flaps into a convenient knot to seal the bag and carry it.
Smarter Lawn Work with Clear Bags
These clear trash bags can also be conveniently used for storage. Since they are clear, again, you can see the contents easily. The Kirkland trash bags would be able to protect your items while enhancing how things look when they are stored.
These bags are also very strong and sturdy. I use these often and have not experienced any leakage or punctures. The reviews available on this Kirkland clear trash bag also echo my experience. These clear bags are highly functional and lightweight. However, don't let the bag's transparency or thinness fool you. The Kirkland clear trash bags are heavy duty.
Surprisingly, I have also used these Kirkland clear trash bags as mini DIY green houses over my plants. I have also used these clear trash bags to contain and transport laundry.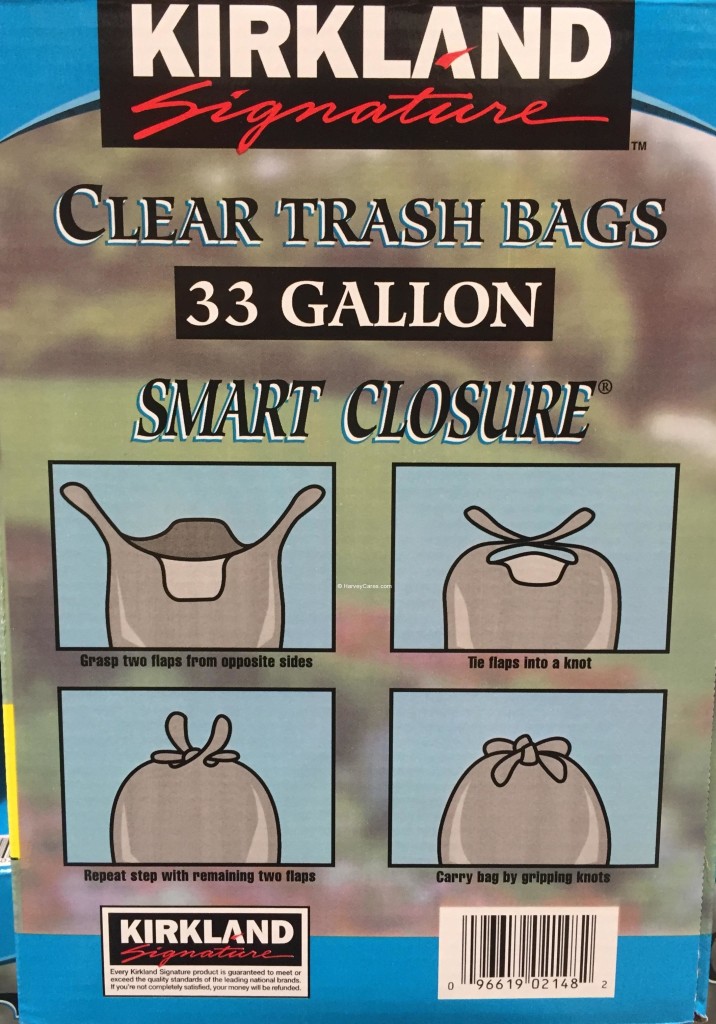 Where to Buy?
Already made up your mind? Your local Costco warehouse should have this in stock near the cleaning aisle. Amazon currently has this item in stock at the best price with shipping included.