Kirkland Signature Organic Animal Crackers
The Kirkland Organic Animal Crackers is a delicious and fun organic snack with beloved cute animal designs. I love animal crackers. Never outgrown them. And why would I? They are delicious. Great for snacking on the go. I think creativity is the limit here. You can add it to your favorite frozen yogurt or ice cream. Either crushed or just add a few as decoration. Animal crackers briefly roam freely on your ice cream before you devour them all.
These organic animal crackers are delicious. There isn't much to them. And that's kind of the point. Made of mostly USDA organic ingredients. These animal crackers are contained in a large 4 pound plastic container.
Perfect for kids parties, snacking at the office, making desserts or even cooking. The uses are versatile. Have them with some almond breeze. Great with tea or other cookies.
Kirkland Organic Animal Crackers Product Details
Item name:  Kirkland Organic Animal Crackers
Costco item #772756.
Kirkland Signature – your satisfaction guaranteed.
Organic animal crackers.
Various cute animal shapes.
USDA organic.
Animal cookies.
4 pound (lb) 1.8 kg plastic tub.
Packed in the USA.
Ingredients List
Ingredients: Organic wheat flour. Organic cane sugar. Organic palm oil. Organic cane invert syrup. Organic degermed corn flour. Organic sunflower oil. Baking soda. Organic vanilla extract. Salt. Soy lecithin. Cream of tartar. Natural flavor. Organic spice.
Kirkland organic animal crackers contains wheat and soy.
Allergen information: The product is processed on equipment that also packages other products. These products may contain milk, eggs, wheat, soy, peanuts, and tree nuts.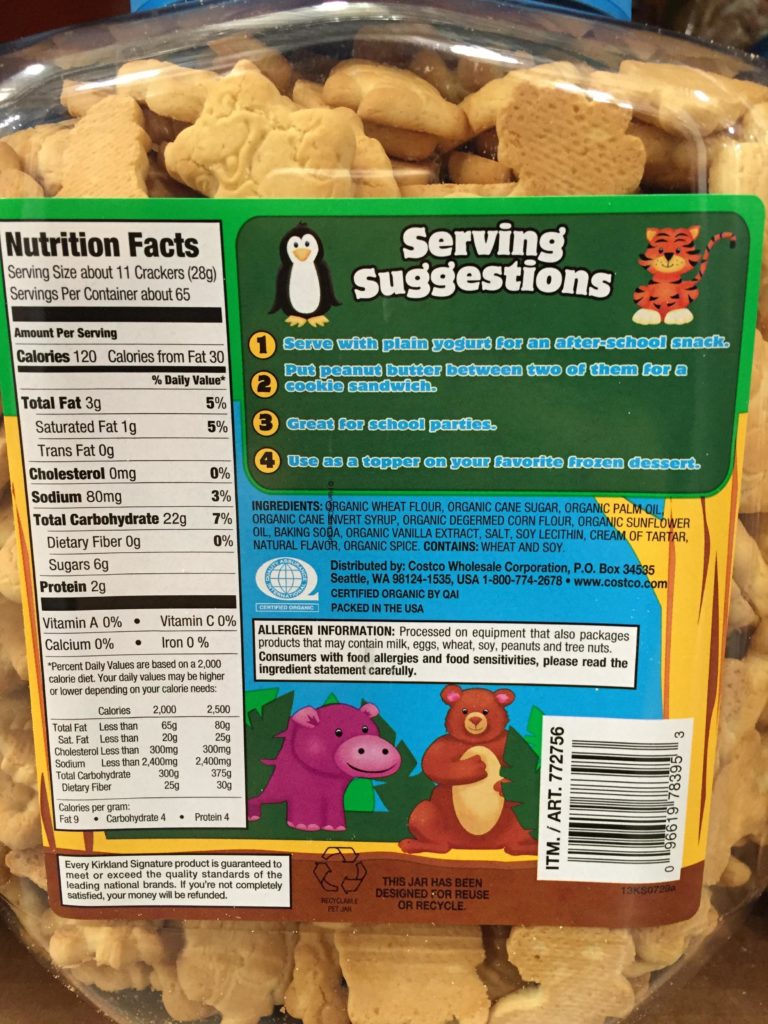 Nutrition Facts
These crackers have a serving size of 28 grams (about 11 animal crackers). There are about 65 servings per container. 120 calories per serving. 30 calories from fat per serving.
About Kirkland Organic Animal Crackers
There's not much to these animal crackers. Other than they are delicious. And USDA certified organic. The cute animal designs on these cookie crackers are sure to appeal to kids. Adults will also be able to enjoy these crackers as a snack.
Snacking is only a way to enjoy these delicious animal crackers. You can also eat the crackers with yogurt as a snack. Make an animal cracker sandwich by adding jam or peanut butter. Place a bunch of animal crackers in a bowl for parties. Use a few animal crackers as a topper for frozen yogurt or ice cream. Adds great design and texture dimensions to your favorite frozen treats.
Where to Buy?
Already made up your mind? Amazon has this item in stock at the best price with shipping included.