Mariani Uncrystallized Ginger
For all the ginger lovers out there, Mariani Uncrystallized Ginger is a yummy confectionary snack with a slightly spicy kick. Moreover, winter is upon us. As the temperature outside drops, we tend to congregate indoors and stay warm. Snacking comes to focus and there are so many choices ranging from Japanese waffle cones to European cookies.
Although I love all the common and popular snacks, I am mindful of other more unique snacks at the same time. I love cooking with ginger. The unique spicy kick followed by a warm and sometimes hot feeling is quite welcome, especially in this season.
Mariani Uncrystallized Ginger Product Details
Item name:  Mariani Uncrystallized Ginger.
Costco item #1113213.
By Mariani.
Smooth texture.
Sweet taste.
Uncrystallized (no sugar coating).
Made with real ginger.
Cholesterol free.
Product of Thailand.
Mariani Uncrystallized Ginger Ingredients List
Product Ingredients: Ginger. Sugar. Sodium metabisulphite (as a preservative).
Allergen information: This product is packed on equipment that also handles milk, soy, and tree nuts.
Nutrition Facts
There are about 21 servings per container. A serving size is about 1/3 or 40 grams. That's about three or four pieces of dried ginger.
Each serving has 150 calories. There is no fat or cholesterol. The ginger itself has sugar but there are also 19 grams of added sugar per serving. The ginger pieces also contain a slight amount of calcium (4% of your daily value with one serving).
About Uncrystallized Ginger
I love using ginger roots to flavor my dishes. You can easily enhance a heart-warming chicken soup with generous slices of ginger. Sometimes, you may find yourself out of ginger or lacking the determination to wash, peel, and slice fresh ginger.
Since this uncrystallized ginger from Mariani does not have a heavy sugar coating on the outside (similar to the no-sugar-added mango snack we reviewed a few weeks ago), it can also be used for cooking. Uncrystallized ginger pieces is an easy and versatile addition to any dish! For new recipe ideas, try adding a few pieces of these dried ginger pieces to any of your dishes or to your daily smoothie juice.
Soft and chewy out of the bag, the ginger pieces are also perfect for snacking on the go. Especially for this winter.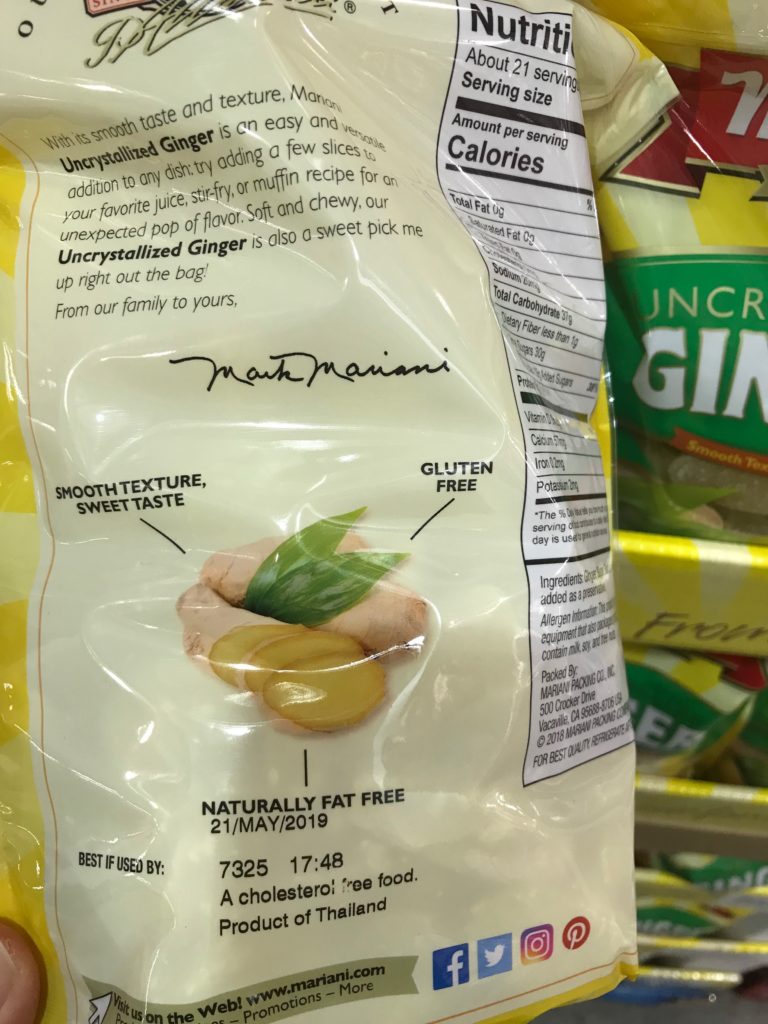 Where to Buy Uncrystallized Ginger?
This is a seasonal item so your local Costco warehouse may not have this in stock. Alternatively, Amazon has a similar item in stock at the best price with shipping included.