Kirkland Signature Drawstring Kitchen Bags
I have been using the Kirkland Drawstring Kitchen Bags for years. In fact, we never had one break or rip despite filling them with all kinds of trash! In addition, according to numerous reviews, tend to perform better than competing national brands. This really speaks to how far the Kirkland Signature brand from Costco has come in getting an edge up.
The 1-bag-at-a-time dispensing is also very convenient. I usually store one box of these bags underneath my sink and take one out when needed. The 200-count box lasts for months. This product is very reliable. You will find it to be an indispensable item under your kitchen sink. More importantly, these trash bags are cheap. The quality has also been consistent over the years.
Kirkland Drawstring Kitchen Bags Product Review Details
Costco item #50787.
Kirkland Signature – your satisfaction guaranteed.
200 count.
13 gallon (49.2 liters) capacity.
0.90 mil thickness.
Dimensions:  24″ x 27″
Convenient 1 bag at a time dispensing.
Stronger with Drawtape.
The drawstrings easily raise the bag from your trash can.
Made in the U.S.A.
About Kirkland Drawstring Kitchen Bags
The bags feature stronger Drawtape technology. And this isn't just some fancy technology. The bags really are strong and reliable. I have used it for many years. Yes, it will leak if you put sharp things in there like broken glass. However, under normal usage, this will be a dependable kitchen bag/trash bag for your household.
This is also a Kirkland Signature product. Your satisfaction is guaranteed or you can get your money back. I will also tell you that these drawstring kitchen bags are magical. Just pull on the strings and it kind of "holds" the whole bag upright. This is very convenient for dragging out all of your trash that is in your trash can.
I have also used these drawstring kitchen bags to collect items for sale or donation. These drawstring bags are also useful in collect leaves from your yard or storing items in your garage. I see these strong and reliable kitchen bags as multi-utility bags, not just for kitchen trash. The drawtape technology is essentially the red drawstrings that are on the sides of the bag. They are made of harder plastic and are extremely easy to use. You can basically lift them up when your kitchen trash bag is full. What it then does is sort of collect everything up by lifting up the whole bag from the bottom up.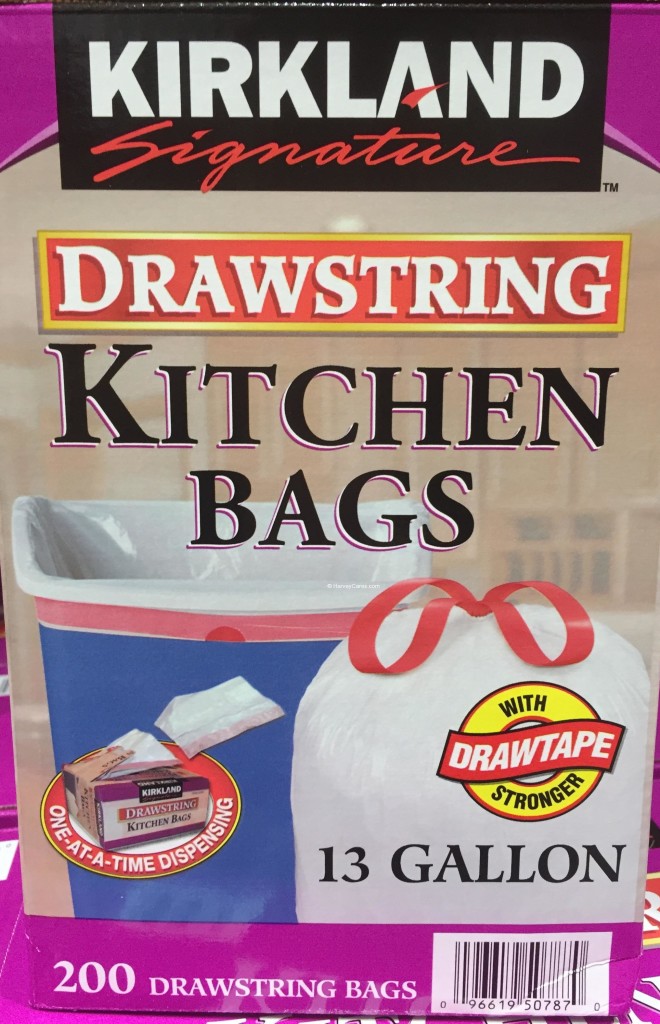 Where to Buy?
Your local Costco warehouse should have this in stock near the cleaning aisles. Amazon currently has this item in stock with the best price and free shipping.