TruNature Digestive Probiotic
TruNature Digestive Probiotic is great for those looking to maintain and promote their digestive health.
What are probiotics? And why are they important to us?
Probiotics are essentially live bacteria and yeasts. Your body is full of bacteria. Some are good. Some are bad. The good bacteria in our stomach and digestive system help keep us healthy. Probiotics help maintain a healthy gut.
The digestive system is also where most of our immune system is present. Having a strong immune system is essential to good health. With a strong digestive system, you can be better. You can also be healthier. If you have a compromised digestive system, you may often struggle to be healthy. Without proper nutrient absorption, there will be issues.
The TruNature Digestive Probiotic is a dietary supplement. The probiotic can help maintain your digestive health. This product is not a drug.
These probiotics can help support a healthy immune system. It naturally restores digestive balance. Each capsule includes 10 billion active cultures.
Many times when we get sick, we are prescribed drugs. This includes antibiotics. These chemicals often flush the good bacteria out of our stomach. Consuming probiotics can be a strategic solution. Digestive probiotics can reintroduce the good bacteria back into our system.
This probiotic is also gluten free, soy free, and dairy free. So you can feel comfortable about taking it every day if you choose to do so.
Looking to Purchase TruNature Digestive Probiotic?
Already made up your mind? Amazon has this item in stock at the best price with shipping included:

Shopping for the Best TruNature Digestive Probiotic?
The TruNature Digestive Probiotic is a great probiotic product.
There are also other very popular and highly rated products in this category. See the Harvey Cares recommendation below.


Back to the good stuff! Take a look at the detailed review of TruNature Digestive Probiotic below.
TruNature Digestive Probiotic Product Review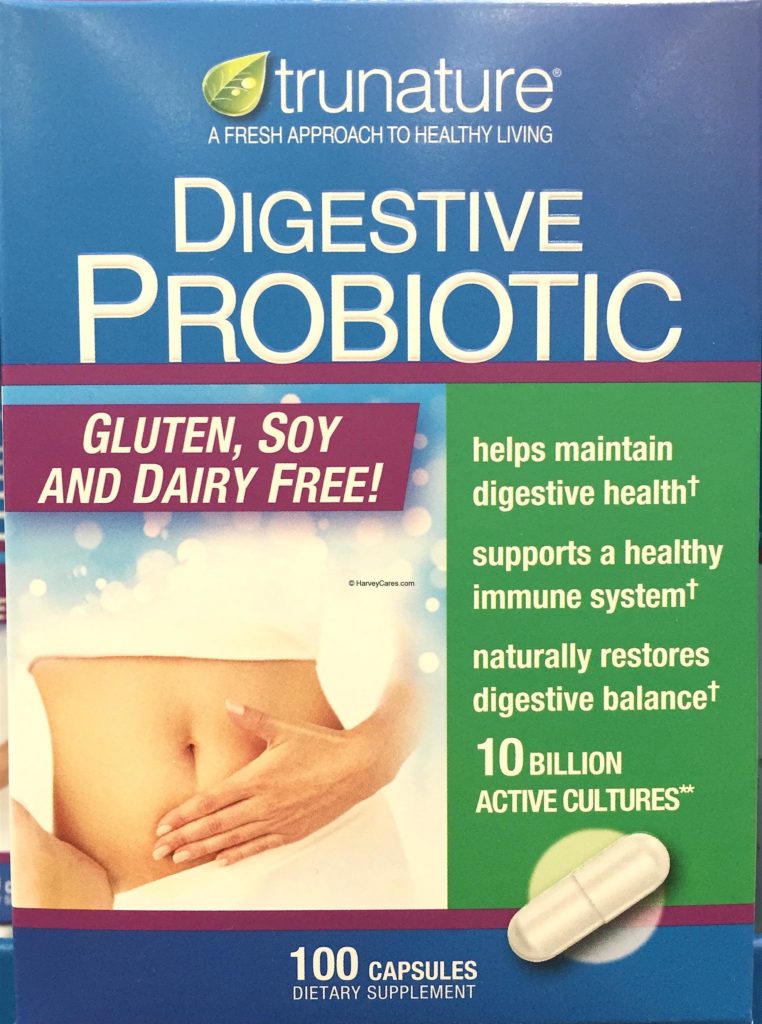 TruNature Digestive Probiotic Product Details
Item name: TruNature Digestive Probiotic.
Costco item #515093.
Dietary supplement.
10 billion active cultures.
Helps digestive health.
Supports a healthy immune system.
Restores your digestive balance.
Gluten free.
Soy free.
Dairy free.
100 capsules.
Made in the USA.
TruNature Digestive Probiotic Ingredients List
Active Ingredients:  Probiotic Blend (Lactobacillus acidophilus. Bifidobacterium lactis. L. rhamnosus GG.
Other Ingredients:  Cellulose. Silicon Dioxide. Magnesium Stearate (Vegetable Source). Titanium Dioxide.
As a dietary supplement, take one (1) TruNature Digestive Probiotic capsule every day.
Do not crush or chew.
TruNature Digestive Probiotic Nutrition Facts
The serving size of this probiotic is 1 capsule. There are about 100 servings per container (100 capsules). 0 calories per serving. 0 calories from fat per serving.
This is a 100 count container.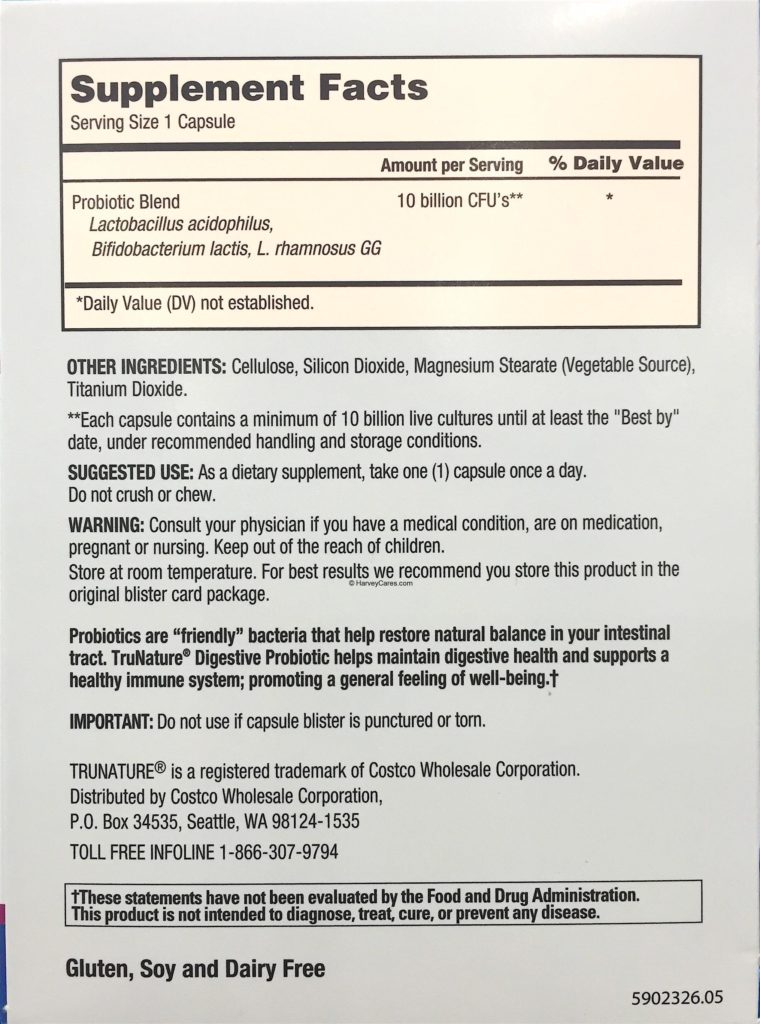 About TruNature Digestive Probiotic
Bad bacteria can be start to flourish in your digestive system. Especially if you have a poor diet. Or if you are under constant stress.
Age, travels, diet, and environment can also cause havoc to your body. This includes your digestive and immune systems. The bacteria levels in your stomach may be off balance.
TruNature digestive probiotic are "friendly" bacteria. They help restore natural balance in your intestinal tract.
Give this digestive probiotic a try. Especially if you believe your digestive health is weak. This is a gluten free and dairy free probiotic. The active cultures in this probiotic can help naturally and effectively restore digestive balance.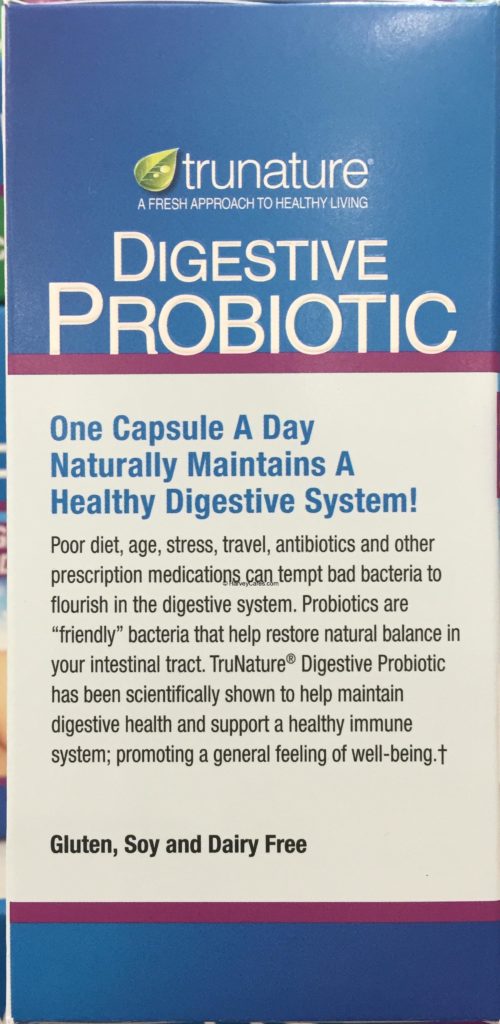 Side panel product description of this digestive probiotic.
Costco Price Panel
TruNature Digestive Probiotic is currently selling at my local Costco Warehouse for $16.99
I have not seen a discount on this product before. The item is also available on Costco.com but priced at $18.49 (as of the date of this post). Included in this price is shipping and handling.
Please note that your local selection and pricing may vary.
Amazon.com appears to have the best price for this item with shipping included.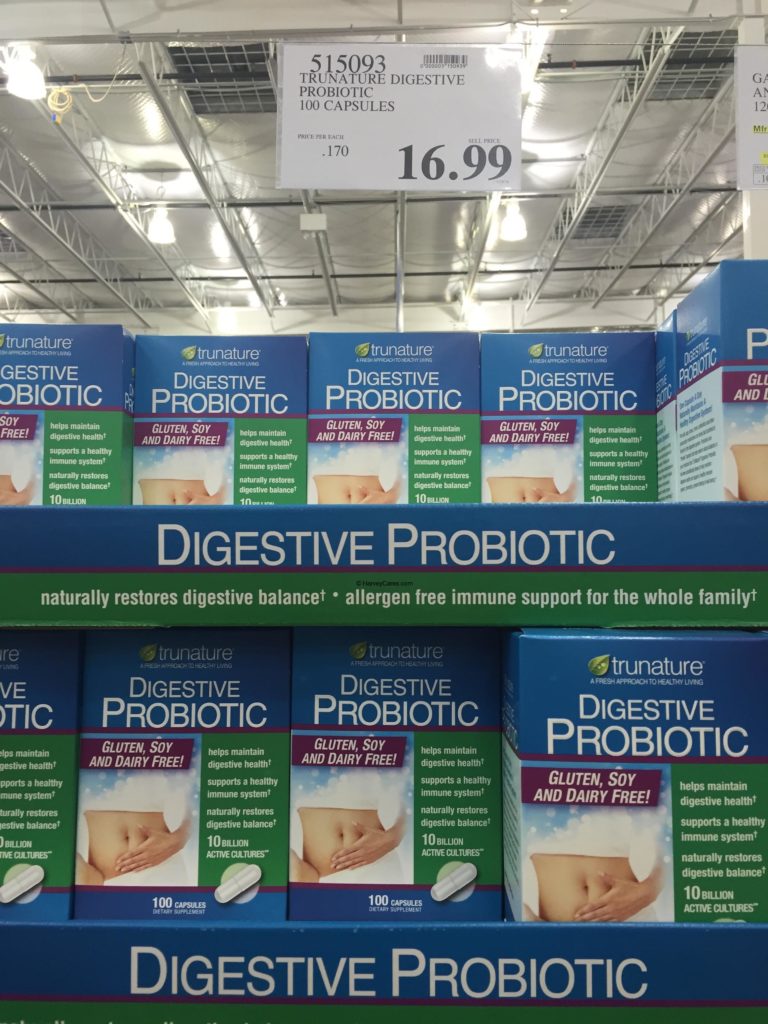 Have you bought the TruNature Digestive Probiotic before?
Did you like it? Does your local store have the item in stock? Leave a comment below!